Conguero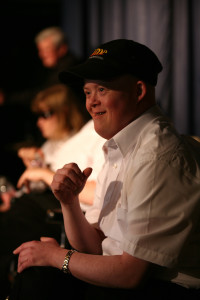 Shawn was born in Gloversville and lives with his parents. Shawn was diagnosed with Down Syndrome shortly after birth. He walked at 25 months old and speech was delayed. Doctor's told his parents that he would never really be able to speak; if they could see him now.
Shawn graduated from the Life Skills Program sponsored by the Gloversville School District in 1991. Shawn worked at the Sheltered Workshop and now volunteers with Mobile Day Habilitation Program. When Shawn is not performing he enjoys watching TV, wrestling, listening to music, video games, fishing, movies, bowling and camping. Shawn's favorite wrestler is Stone Cold-Steve Austin.
Since joining the band he has become very talkative and loves to interact with people. Shawn expresses himself through his performance. His charm, humor and rhythm adds to the band's appeal.