Percussion, Vocals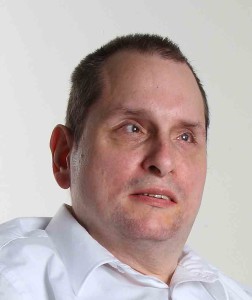 Scott is a Country Music Buff with a big country voice who loves to create his own songs. Being part of Flame has allowed Scott to fulfill his dream of being in a band and entertaining people.
When he was young, Scott loved to drum on pots and pans. There wasn't a day that went by that his parents didn't hear Scott singing in their home.
The first time Flame performed at the Glove Theater in Gloversville, NY, was the first time Scott's father was able to see him perform in front of an audience. His father was overwhelmed and began to cry while stating "that's my boy, that's my boy!" Hearing his father that night, you were overcome with the same emotion his father had, PRIDE.
When Scott is not singing and playing his bongos with Flame, he enjoys talking on his CB (His handle name is Brown Dog), listening to CD's, talking on the telephone and most of all being with his girlfriend.
Scott doesn't let Cerebral palsy or blindness keep him from doing what he loves. Scott's big country voice is only surpassed by his big loveable personality.