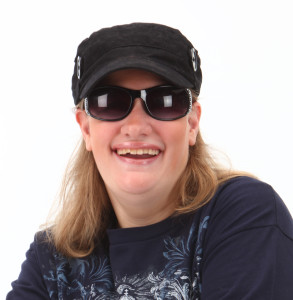 Vocals
Adrienne went to the Blind and Visually Impaired School in NYC.
At the age of 3 she started playing the piano.  She took basic lessons and was able to teach herself.  When she was 5 she went on stage and sang "It's a Small World After All."  Ever since then she has been singing and always wanted to be in a band.
She moved up state form NYC 9 years ago.  She went to Gloversville Schools and Vo-Tech Cooking College.  She received a certificate in Culinary Foundations of Food.
After graduation she felt like she had nowhere to go for months.  Her mother made a call on her behalf to Lexington.  Through the help of Lexington and the Commission of the Blind in Albany she was approved for assistance.  She interviewed with a counselor at Lexington.
She auditioned for Flame and stated it was like being on "American Idol."
She loves performing, traveling and meeting new people.  She has never let anything stop her from sharing her love of music.